RELATED VIDEOS
Prior to the feature film, "A Time to Dance," Bushy Theater, Inc. produced a number of highly regarded videos documenting the work of Pioneers in the fields of Expressive and Creative Arts Therapies.
---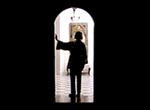 AT THE THRESHOLD,
A Journey to the Sacred Through the Integration of Jungian Psychology and the Expressive Arts"
with Carolyn Grant Fay
This personal documentary profiles Carolyn Grant Fay, whose approach to dance therapy is based on Carl Jung's active imagination technique. The video provides viewers a concentrated glimpse into how Carolyn creates and holds sacred space within herself and in her studio. Inside that safe container, her students explore the unlived parts of themselves that they had left behind or never found. Carolyn's work clearly illustrates the natural healing power of the arts.
"Beautiful and vivid images of the process of individuation. A vision of psychotherapy as it is meant to be: joyful, insightful and deeply moving" - Joan Chodorow, Ph.D.
"A creative insight into Carolyn Fay's pioneering work."
- Harry A. Wilmer, M.D., PhD.
"A provocative film for those interested in the subtle connections between psyche and soma"
- Marion Woodman
$49
1996
55 minutes
Available from The C.G. Jung Educational Center of Houston, Texas, Inc.
5200 Montrose Blvd., Houston, Texas 77006
(713) 524.8253, Ext. 3 www.cgjunghouston.org
---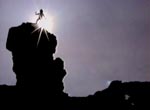 ARTS IN THE ENVIRONMENT,
A Study in Group Process in the Natural World
This unique outdoor workshop lead by Norma Canner, William C. Freeman and Anne Brownell, transported a group of teachers, therapists and artists into a dramatic setting for the opportunity to experience creative expression and recapture a child's sense of wonder. Through individual and group exploration, internal and external dialoguing with the self, others and the environment, viewers are able to join the group's ability to play, discover and transform. The video provides an opportunity to witness the creative spark between person and place as we trace the group's journey through magnificent chalk cliffs that were carved by an ancient sea in Western Kansas.
"Norma Canner has done it again! This beautiful, inspiring study of expressive movement is all about the development of relationship. What a marvelous film!" - Joan Chodorow, Ph.D.
$29.95
1994
57 minutes
Available from Accessible Arts, Inc.
1100 State Ave., Kansas City, KS 66102
Phone/TTY: (913) 281-1133 FAX: (913) 281-1515
---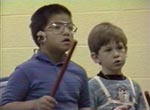 ACCESS TO THE ARTS
The Access to the Arts curriculum was created to prepare college students, art educators, art therapists, visual and performing artists and special education professionals to experience the power and value of the arts for students with special needs. Through classroom footage and interviews with Movement Therapist William C. Freeman, Music Therapist Bonnie J. Burnside, and Art Therapist Maureen Craighill-Moran, this video explores strategies for including students with special needs by individualizing instruction and adapting materials and methods used in the arts within the school setting.
$29.95
1993
45 minutes
Available from Accessible Arts, Inc.
1100 State Ave., Kansas City, KS 66102
Phone/TTY: (913) 281-1133 FAX: (913) 281-1515
---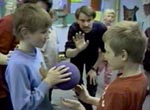 YOU'RE OK RIGHT WHERE YOU ARE
Expressive Movement in Education
This 45 minute video takes a close, in-depth look at a classroom session led by Movement Therapist William C. Freeman. Through clear and articulate explanations and demonstrations, viewers learn how William takes a group of children through experiences in expressive movement and how he builds and shapes his sessions on what comes up for each child.
1998
45 minutes
This video is not yet available.
For more info contact:
William C. Freeman
PO Box 151 Westminster, VT 05158
(802) 722-3525