For one hilarious night only,
Faith Soloway and friends
offer us a behind-the-scenes
peek of what can only be
described as the anti-Lilith Fair

By Laura Kiritsy

When Bob Dylan plugged in an electric guitar at the1965 Newport Folk Festival, shockwaves reverberated through the peaceful audience of hippie folk-purists, turning it into an angry mob who booed him off the stage. The folk star promptly unplugged—allegedly leaving the stage in tears—and returned with an acoustic guitar to give the people what they wanted. Folk music, as the young Dylan shamefully learned, is a serious business.

In spite of Dylan's infamous faux pas and his very public spanking—or probably because of it—fearless folkster Faith Soloway dreamed up "Miss Folk America." A laugh-out-loud lampoon of the folk scene—"Miss Folk America" is the acoustic equivalent of "This is Spinal Tap," the classic film that parodied the overblown, drug-induced drama and excess of heavy metal music and the rock 'n' roll lifestyle. Soloway and a troupe of real live folk musicians—Mary Gauthier, Meg Toohey, Catie Curtis, Kris Delmhorst and Jennifer Kimball—vie for the "Miss Folk America" crown in a multi-media extravaganza that gives you a behind-the-scenes peek at what can only be described as the anti-Lilith Fair. As they compete for the coveted title, the ladies spoof every nook and cranny of the folk world—from the perils of the Unitarian Church basement circuit (bad coffee and equally bad coffee cake) to the crunchy- granola guitar-strummer warbling about leaves and trees to the womyn-loving, man-hating, angry lesbian folk-singer.

Soloway, who stars as "Miss Roslindale," says it wasn't difficult to get her co-stars and the raft of other musicians who make cameo appearances—all heavyweights on Boston's much-revered acoustic music scene—to poke a little fun at themselves. A "behind the scenes" video clip has the likes of Vance Gilbert, Jess Klein and scene staple Don White putting the bewildered contestants through a rigorous series of workshops entitled "Folksercizing" ("fling the hair 'cause it's real emotional," chimes the wildly-afroed Gilbert in a mock aerobics class), "How Not to Bore Your Audience to Death," and the ever-important "How to Make Your Audience Want to Fuck You."

"The folk people in this are all too aware of how serious sometimes folk can be taken," Soloway explains. "So I think they're all also very happy to make fun of themselves. This is a complete 'out there' sort of thing."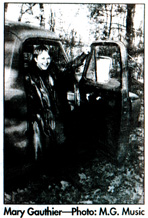 Establishing herself

"Out there," is a fitting description for Soloway herself. She landed in Boston six years ago after taking "The Real Live Brady Bunch"—a show she created with sibling Jill Soloway in which adult actors performed episodes of the classic TV show—on a coast to coast tour in the early 1990s. Turning her attention from comedic theater and parody to acoustic music in an effort to find her more serious side, Soloway hit the local open mic scene and established herself with her CD debut, "Training Wheels." But getting serious didn't come easy to the singer/songwriter—in the first tune Soloway penned, "Lesbo Song," she takes a swipe at her efforts to play it straight—well, at least as a musician. She continues that self-parody in a "Miss Folk America" number where she proudly proclaims that she's a "Vampire, bush mama, turkey-baster operator, clam-diggin' diesel dyke, collar-up softball coach."

While making a name for herself in Boston's legendary folk music scene, Soloway found it difficult to contain her more outrageous side, apparently suffering from a performance-induced tourette's syndrome. "Between the songs my banter gets a little outrageous," she confesses. "I have a very loose mouth." "Miss Folk America" and her other operas such as "Jesus Has Two Mommies," are a means for the loose-lipped performer to relate her satiric observations without being thrown offstage. "The rock operas were sort of a way to control myself. Sometimes things will come out of my mouth; as I'm doing it I have no control and sometimes I wish I could have edited myself better or whatever. So this is just a way to put it all together.

"I come from that sensibility and that sense of fun and a little bit of shock," she continues. "I like shocking people, surprising people. And then sort of combining that with giving the folk audience which isn't used to that, that kind of entertainment, is just sort of irresistable for me."

Having performed a stripped down version of "Miss Folk America" at the Cambridge folk-haven Club Passim last year, Soloway jumped at the chance to bring a pumped up, retooled version of the show to the Somerville theater. With the addition of contestant Kris Delmhorst, new music, a different ending and more surprise guests, Soloway promises a different show. The catch? It's only for one night, an idea that Soloway both relishes and loaths. "A lot of people will miss it," she says of "Miss Folk America's" one-shot deal, but adds, "it will be about what's going on in the space at that moment—a true theatrical experience—hopefully a full house of people sharing an insane thing."
For tix to 'Miss Folk America,' December 2, at 8 pm (doors open at 7:30 pm), at the Somerville Theater, 55 Davis Square, Somerville, call Songstreet Productions 628-3390.