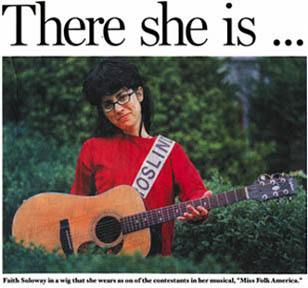 Faith Soloway pushes
singers to spoof
themselves in
"Miss Folk America"

By Christopher Muther
Globe Correspondent

The move to Boston meant a clean break for Faith Soloway. No more campy theater, no more writing mindless TV programs such as "America's Funniest Commercials." And–finally–no more working as a team with her sister. Boston was where Soloway would make a name for herself as a serious folk singer, test her solo wings, and in the process, find true love.

Despite her earnestness, the story deviates from Soloway's script. Yes, she moved to Boston. Yes, she started writing folk songs. But she also made peace with her musical theater past. And here's the requisite happy ending: People fancy her new campy hybrid of folk and theater.

Maybe it's too early to declare a happy ending. The story is still writing itself, and Soloway is busy asking herself the very Diana Ross question: "Do you know where you're going to? Do you know the things that life is showing you?"

Even during a pastoral Lilac Sunday picnic in the Arnold Arboretum, Soloway, the author of the folk musical comedy "Miss Folk America" which runs tomorrow night at the Somerville Theater, wrestles with issues of sibling rivalry, impending motherhood, and trying to figure out exactly what to call her shows, which are not quite musicals and not exactly theater.

But first, there's a more pressing issue at hand. "I've got faucet nose," Soloway confesses.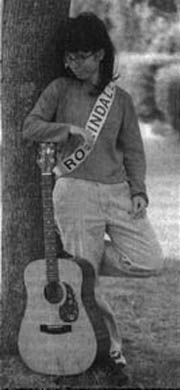 She rummages though the pockets of her service-station attendant's jacket – complete with a patch that reads "Butch" above the breast pocket. The jacket is signed by two of her favorite butches, lesbian comic Kate Clinton and Garbage guitarist Butch Vig.

Soloway, 37, resembles a more angular, prettier Janeane Garofalo, or perhaps Velma from "Scooby Doo," only with longer hair and a Harley Davidson T-shirt that reads "nobody's Ol' Lady" instead of an orange turtleneck.

Her search yields a package of tissues, and she returns to the business of picking apart her turkey sandwich and analyzing why she deserted a promising career as a television writer in Los Angeles seven years ago for a life in Boston.

"I think I'm trying to prove something to myself," Soloway says. "If I went to LA, I wouldn't be working this hard. I'd be falling in line and getting a nice cushy writing job, hopefully, for a nice sitcom. But I know that wouldn't fulfill me. I need to work out these huge schlock-opera demons."

Her first large-scale schlock opera is "Miss Folk America," a faux pageant for the tittle of best folk singer. Not only does Soloway skewer pageant culture, she also puts the screws to Boston's folk scene, a circuit she still flirts with after years as a regular at Passim and other clubs.

Inexplicably, some of the biggest names in today's folk world – Catie Curtis, Kris Delmhorst, Mary Gauthier, Jennifer Kimball, and Meghan Toohey – not only star in the show alongside Soloway, but gleefully play oddball caricatures of themselves.

Curtis, known for her thoughtful songs, plays herself as a therapist-friendly, nature-loving gal. Gauthier, who emphasizes her Dixie past in her lyrics, is an aw-shucks, simple Southerner. And Kimball, who found commercial success in the 1990s as a member of The Story, is an ultra competitive, attention-starved backstabber still working out a sexually charged childhood infatuation with her horse, Puddin'.

"The truth of the matter is, I can't imagine doing this for anyone but Faith," Gauthier says. "She's a comedic genius. It's also incredibly rewarding for me. The material I normally perform is so serious, so to be up onstage getting these huge laughs feels great."

"Miss Folk America" began as a quickly thrown together show at Club Passim and grew to a sold-out, multimedia musical last December at the Somerville Theater.

Its success has encouraged Soloway to start developing some of her other Passim ideas into full-fledged schlock operas. This December, she plans to stage "Jesus Has Two Mommies" at the Somerville Theater, a retelling of the story of Jesus' birth. In Soloway's version, the Virgin Mary is partnered with Josephine.

Soloway has spent the better part of her adult life letting her imagination steam roll reality. Hers is a song-and-dance world as viewed from a skewed perspective. It's almost as if her thick-framed black glasses enable her to look into a parallel universe inhabited by characters such as the mullet-wearing Marla Carter, who, in "Miss Folk America," belts out the signature tune "Queer in Revere."

Soloway grew up in Chicago with her sister, Jill, 18 months her junior. They escaped their parents unhappy marriage by immersing themselves in "The Brady Bunch" and "The Partridge Family." The Soloway sisters' wry humor and love of pop culture set the stage for gigs with the Annoyance Theater and Second City.

At Second City, where Soloway worked as music director, she wrote a parody of the Jefferson Airplane song "White Rabbit," giving the lyric "Go ask Alice" a Brady hue. That led to "The Real Live Brady Bunch," a tongue-in-cheek reading of Brady scripts directed by the Soloways and performed by actors in polyester and platform shoes. The show was an immediate hit, toured the country, and helped inspire the Brady Bunch theatrical films of the mid-1990s.

Thanks to the Bradys, the Soloway sisters had agents calling, and they were landing gigs scripting television and directing. Jill was ready to embrace television. Faith was leery.

"I wasn't quite ready to follow in that path," she says. "I also felt like I was pulled along by my sister. I've always been the follower in groups, and I was always the therapist holding things together. I needed to find my own silly dream."
Soloways dream was folk singing. She wanted to write introspective songs, release albums, and build a following. At the same time she began dating Harlie Aizley, the sister of a Brady cast member, who lived in Boston. She moved to Boston, with its fertile folk scene, severed her full-time working relationship with her sister, and started a new relationship with Aizley.

In 1995 she released an EP, the appropriately titled "Training Wheels," and regularly hit the open mikes around town. But her theater background began seeping into her shows. She wrote songs from the perspective of characters, and she started mini-musicals at the ends of her shows, staring herself and other local singers.

"I can't stop analyzing the process, because when I came here, I didn't want to be involved in theater," she says. "I was getting away from it, simplifying my life and finding out who I am. Then it just started coming in small ways."

Instead of fighting the urge, she's now embracing it. Writing shows instead of touring in country as a folk singer allows her to maintain her day job as an actor, teacher, and musician with Urban Improv, a program that brings theater to inner-city kids. It's also given her the stability she needs to start a family. Aizley hopes to become pregnant this year by artificial insemination.

In her urge to analyze her life, Soloway ponders why she did not follow her initial dream of full-time folk singing.

"It could be because I'm afraid of sharing myself and giving up all the privacy," she says. "It's very scary for me to think about being a singer who shares all of her intimate details. I'd rather make a different reality for myself.

reprinted by permission of the author

Photos by Bill Brett
Globe Staff Photographer