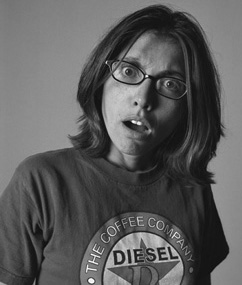 Folk/Blues DANIEL GEWRTZ

Faith Soloway was looking for laughs, not controversy. "But any time you name a play 'Jesus Has Two Mommies,' I guess you have to be prepared for trouble," said Soloway.

The musical satire, which features Catie Curtis, Jennifer Kimball, Sean Staples, Jim Infantino, Meghan Toohey and Soloway, sold out the Somerville Theater twice more than two weeks ago. On Dec. 21 and 22, the uproarious musical will be reprised for three shows at Boston's Copley Theater.

Soloway's goofy, high-spirited, lesbian-themed comedies often place the writer's neuroses center stage. Yet last Friday night, Soloway suffered a different sort of spotlight. A segment of the Fox News Channel's "Hannity & Colms" show pitted Soloway against Bill Donohue, Catholic League president.
Donohue, who hasn't seen the play, continually claimed Soloway was a liar, and then, calling her "baby and "honey," offered to pay for her therapy sessions he felt she obviously needed.

"It was like watching, not playing, a tennis match. I could barely get a word in. Donohue was like a feral rat," said Soloway, who spent much of her allotted time trying in vain to explain that a press quote of hers about "putting my middle finger at certain sorts of social construction" had nothing to do with Christianity.

"She wants to stick it to Catholics," Donohue retorted.

Soloway was ultimately forced to admit, however, that she doesn't approve of Catholicism's condemnation of homosexuality. "I think you guys are a little harsh on us," she said.

Soloway, ex-musical director of Chicago's Second City comedy troupe, good-heartedly lampoons gays, straights, folkies and big-haired women from Revere in her silly, excessive, highly personal and often hilarious shows.

"Jesus" concerns Faith's difficulty committing to gay marriage and motherhood, while a black, funky, female God tries to guide her by telling her the tale of Jesus, Mary and Josephine.

As theater, it's both impressive and cheesy, sophisticated and adolescent. The Video segments and multimedia effects, by Ian Brownell, are sensational. (Mary Chapin Carpenter makes a campy guest appearance as the musical star of one video.)

"Jesus" is, ultimately, an affirmation of gay lives. "I want to please a mixed audience, but the gay crowd doesn't have much theater, and I think it's needed," Soloway said.

Will Soloway ever write nongay plays? "I will when I get it all out of my system,. It's almost out now," she said. "You see, it's all about me."

Call 617 824-8000 for tickets.